Joseph Rikert (c. 1670-c. 1742) was born about 1670 in Kirchberg, Wurtemberg, Germany. He was a Palantine immigrant who became a founder of Rhinebeck and active in the establishment of three churches.
His father was Hans (John) Reichard of Kirchberg, County of Marbach, Wurtemberg.   Kirchberg is situated in central Wurtemberg in southwestern Germany, in the northeast fringe of the Black Forest.  Nothing is known about Joseph's mother.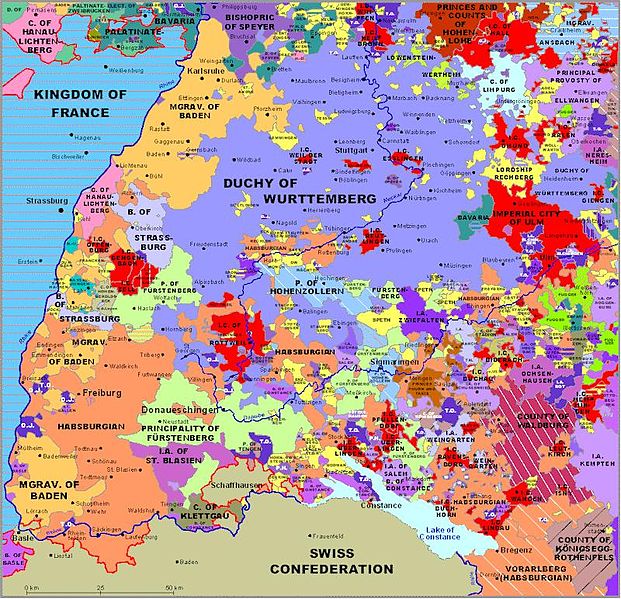 Joseph Rikert came by sea to America in 1710 as part of the large emigration of Palatines.  Other of my ancestors were in that immigration: Martin Buck, Carl Neher, and Jacob Bast.   Joseph settled on west bank of the Hudson River in Ulster (then Albany) County —  now known as West Camp.  He did not long remain there.
Around 1714 with about thirty other families, Joseph Rikert crossed the river and became one of the founders of the town of Rhinebeck, Dutchess County, NY.  He remained there the rest of his life circa 1742 along with Carl Neher and Martin Buck who lived nearby .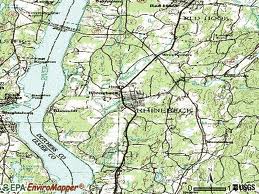 To understand what psychological inheritance there may be, it is useful to think of the Palantine immigration.  Like others, Joseph came to America to escape conditions in Germany.  By November 1709, Robert Hunter was appointed governor of the province of New York.  Hunter proposed that 3,000 of the Palatines be sent with him to New York to be employed in the production of turpentine and tar for use of the British navy. 
Immigration conditions were difficult and almost 500 people died at sea.   Joseph probably landed on what is now Governor's Island and stayed there for a few months while the governor searched for suitable pine lands upon which to settle them.  The majority were conveyed up the river in sloops, probably late in September.  Two camps were established, one on the west side, called West Camp. West Camp lies at the base of the Catskill Mountains. The pine trees proved to be of the wrong species to yield the pitch needful for tar, and the tar making enterprise was abandoned two years later.
Arriving in a wilderness in the fall of the 1710, there was barely time to erect crude huts before the winter set in. That winter is said to have been severe.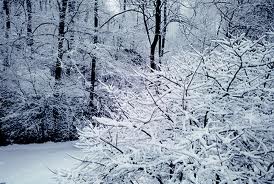 Joseph Rikert's name is found first in a "Statement of heads of Palatine families and number of Persons in both Towns on ye west side of Hudson's River, Winter, 1710."  West Camp then consisted of two towns, Newton and Elizabethtown.  The Statement contains 82 names, and tabulates 257 persons under six headings.
The 42nd name in the Statement is that of Joseph Reichert without other family members which suggests that he was in West Camp in early winter of 1710, alone without family.  The church records call him widower in January 1711.  Nothing is known of his wife.  She may have died before he left Germany or she may have died en route to New York.  Joseph Rikert is known to have had a daughter, Anna Constantia, and a sister, Anna Maria, who are presumed to have followed him to America.
Joseph Rikert/Reichart's daughter by an unknown first wife was:
| | | | |
| --- | --- | --- | --- |
| Child | Born | Married | Departed |
| Anna Constania Rikert | 13 Dec 1689  Wurtemberg | Carl Neher Rhinebeck, NY | Nov 1750 |
Joseph, probably already widowed, immigrated with his teenage daughter.  Conditions were difficult but he found a new community with other immigrants.  She married within the community someone who had been on the same ship.   Industrious and religious, the families of Neher, Rikert, and Bast found a group identity in Rhinebeck.
Reverend Kocherthal recorded the marriage of Joseph Reichert and Anna Maria Traver at West Camp as follows:
"January 9, 1711, Joseph Reichert of Kirchberg, county of Marbach, grand duchy of Wurtemberg, a widower and Anna Maria, widow of the late Johann Niclaus Treber, a Wheelwright, of Wollstein in the county of Cruetznach." Later Kocherthal records the births of two their sons.
By late 1714, thirty five families, including Joseph Rikert's, moved to Dutchess county and settled on lands laid out for and sold to them in fee by Colonel Henry Beekman.  It was Beekman Patent that now is the town of Rhinebeck.   Marriage records indicate the marriage of Joseph Rikert's daughter (by his former marriage), Anna Constantia Rikert to Carl Naher, "at Rhinebeck" January 11, 1715.

Joseph's farm of 75 acres was located on the King's Highway, now the Albany Post road, about one and a half miles north of the present village of Rhinebeck, and two miles east of the river.  He  probably had the land in 1714.  His daughter Anna lived close by with her husband Carl.  On October 20, 1718, Anna Constantia's father had a deed for a 76 acre farm located on the King's Highway (now Albany Post road) about one and a half miles north of the present village, and two miles east of the river.
A deed dated October 12, 1716 by the heirs of Colonel Beekman calls him Joseph Rikert, of Rhinebeck, yeoman.
His deed involved: the consideration was ten shillings current money of New York, and also a rental for four years of two couple of fat live hens, and after four years to pay yearly forever two couple of fat live hens and also one peck and half of good merchantable winter wheat for every acre of land.  The grantors were to have a chance to buy all surplus grain and to buy the land if Rikert wanted to sell.  Another condition was that Rikert was to have his grain ground at Beekman's mill.  Seven acres were added on the south side on August 26, 1726.
The last Rikert owner was Joseph's grandson, Johannes Riker.  When the land passed out of the Rikert's hands,  it was transferred first to Thomas Tillotson and later to Zachariah Traven, a step-son of Joseph Rikert to whom he deeded a portion of his land in 1726.  It remained Traven-owned until 1905 when title passed to Col. John Jacob Astor.  By 1930, it was owned by Vincent Astor whose estate it adjoins.
The original deed, including two indentures, is still preserved. The first indenture, dated November 19, 1748, is between Catherine Pawling and David Rykert.  The second dated February 4, 1786, is between Johannes Rikert and Henry Dittemore. The indentures were not recorded. These three papers were deposited in the American History Division, New York Public Library on May 22, 1930.   Colonial grants were usually conditioned to the annual payment of a quit rent, sometimes due in money and often wheat or other commodity. In 1786, it was provided that lands subject to these rents might be released upon payment of arrears, and fourteen shillings of annual dues.
Joseph Rykert's presence is found among tax records:
In the first tax roll of 1718, the total assessed value in the county was 1800 pounds, divided among 129 tax payers.  Joseph Rykert was named as one and was rated at 8 pounds, 7 shillings and 6 pence.
His name appeared in no less than eighteen tax lists between 1718 and 1729.
Joseph's name was on the list up until 1742.  The 1743 assessment was in the name of "Joseph Rykert's widow."
Apparently, the taxes were for three purposes: his Majesty's revenue, his government in the colony of New York, and the county–for "maintaining the poor and preventing vagabonds."
Joseph Rikert help found three churches. Upon his arrival at West Camp, St. Paul's Evangelical Lutheran Church was established.
The original church records, still intact, contain the earliest American record of the Rikert family.  The names of Joseph Rikert and his wife Anna Maria appear frequently.   Among church worshippers were Lutherans and Calvinists, who built the first church together and remained joint owners about 15 years.  The Lutherans then sold their interest in the church and for acres of ground to the Reformers on December 10, 1729.
Joseph Rikert was a Lutheran and was a member of the committee of four to whom the payment, 25 pounds current money of New York, was made. The Lutherans then built their own church — St. Peter's Evangelical Lutheran Church which was one half mile north of the Reformed church.  The building was later rebuilt and is called the "Stone Church."  I located the church during the summer of 2011.  It was closed down but the graveyard was open to wander through.  The location is  about three miles north of Rhinebeck village and about one mile north of the Rikert farm.
The place of Joseph's burial remains undiscovered and there is no indication of a family burying ground on the farm. The oldest marked grave in the cemetery at St. Peter's church is that of Carl Naher, Joseph's son-in-law, who died in 1733.   Joseph died about 13 years after the founding of St. Peter's Church where he was active in its affair.  Perhaps he was buried there in an unmarked grave.  No will has been discovered.  His widow was last mentioned in January 1749 at she may have died within a few years after that.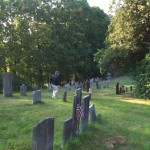 Resources
Documentary History of New York, Vol. III, p. 569-70
Riker Family — extensive research on Joseph Rikert