Roger Proctor of Shawdon (abt 1530-) was born in Northumberland, England to Cuthbert Proctor of Shawdon (-1543) and __ Roddam.  The name and parents of this daughter of the Roddam family is unknown.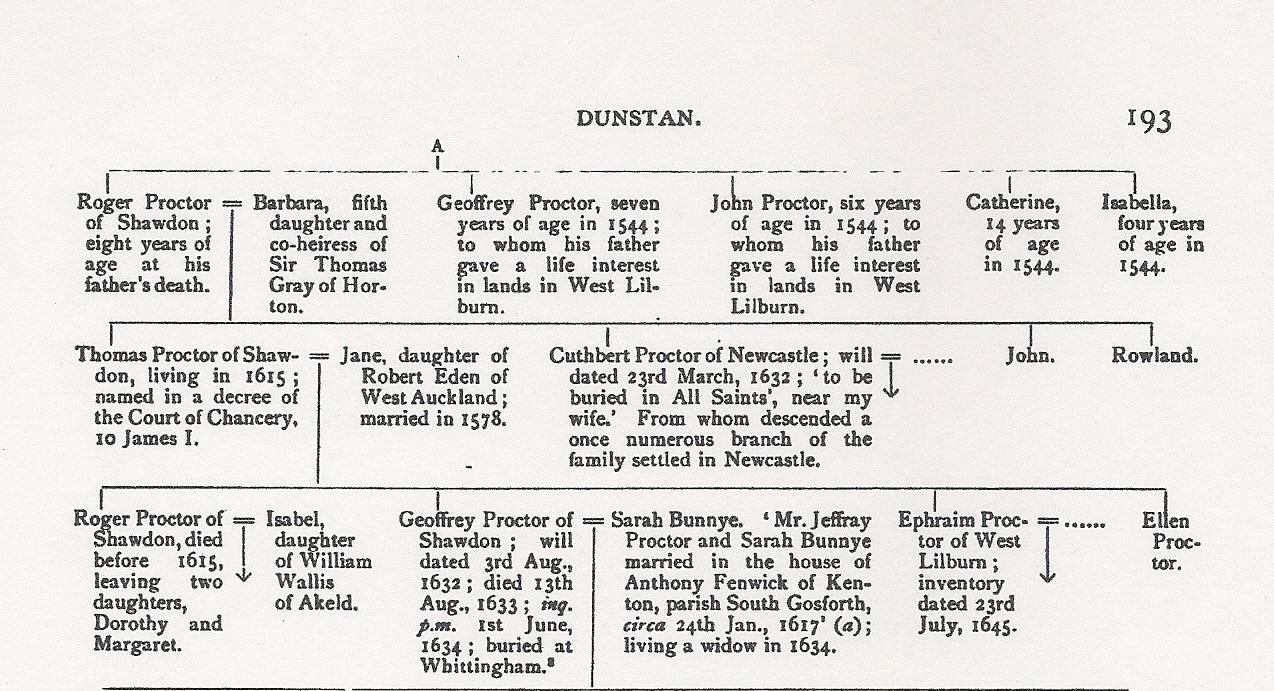 To understand the context of the life of Roger Proctor of Shawdon, here is a brief description of Glanton where he lived and owned property.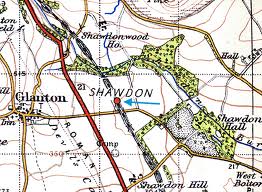 By the early 13th century, Glanton was well established as one of the dependent hamlets of Whittingham.  In 1296, a legal battle ensued and eventually the Glantons lost their land.  The Goswick family male line died in 1377 and William of Goswick's original holding was passed to the Middleham family in Alnmouth. They sold in 1577 to Roger Proctor of Shawdon who had acquired the estate partly through marriage and partly through purchase from the Lilburns.
Thus, by the time of the Union of the Crowns in 1603, about half the village was owned by the Proctors of Shawdon, about half by the Collingwoods of Eslington and the balance by various unidentified small tenants. Village life revolved around farming and villagers had rights of grazing on common land and could also cut wood and dig peats and in time became freeholders.
In contrast to Whittingham which boasted a fine church, tower, brewhouse, mills and a smithy, Glanton was poor. The villagers shared their mud and timber hovels with their animals. The first record of the existence of a stone house was in 1588 when a crown lease was confirmed on a property in Glanton.  In the same year, Robert Proctor of Shawdon complained that the Scots in a raid had stolen 20 kye and oxen while Cuthbert Dine lost 30 kye and 2 horses. Eight years later Glanton was again sacked by the Scots, this time by the servants of Lord Cessford in a continuation of the ceaseless cross-border feuding.
Roger Proctor married Barbara Gray (1535-), daughter of Sir Thomas Grey of Horton and Dorothy Ogle.
| | | | |
| --- | --- | --- | --- |
| Child | Born | Married | Departed |
| Thomas Proctor | | | |
| Cuthbert Proctor | pre-1577 | Ellinor __ |  1633 |
| John Proctor | | | |
| Rowland Proctor | | | |
With the marriage of Roger Proctor to a Barbara Gray of Grey and Ogle lineages, the connections to the past deepen, leading to…
Resources
History of Northumberland, Vol. 14, by Hodgson. Pedigree -"Grey of Horton"
History of Northumberland, Edward Bateson B.A., (London, England: Newcastle-Upon-Tyne Printed and Published By Andrew Reid & Co. Limited, 1895.).