---
Sir Thomas Grey of Horton (before 1515-1590) was born by 1515.  He was the first surviving son of Sir Roger Grey of Horton and Isabel Darcy, daughter of Sir William Darcy.
His siblings were Peter and John.
Sir Thomas Grey married Dorothy Ogle between 1527 and 1531.  She was a daughter of 3rd Lord Ralph Ogle and widow of Sir Thomas Foster.
Sir Knight Thomas Grey career was full of success, disappointment, and later obscurity, despite being knighted and accomplished.
Succeeded father 6 Jan 1543. Knighted 23 Sep 1545. Member of Parliament for Northumberland Oct 1553, Nov 1554, 1559. Yeoman? of the guard before Dec 1531; Justice of the Peace, Northumberland 1547-1554; treasurer, Berwick-upon-Tweed Jun 1547-Feb 1550; sheriff, Northumberland 1547-1548, 1551-1552, Nov or Dec 1558; constable and receiver, Dunstanburgh Jun 1550, steward May 1555-death; commissioner goods of churches and fraternaties, Northumberland 1553.
The first certain reference found to Sir Thomas Grey is his appointment in 1536 as deputy to his maternal uncle Thomas Lord Darcy, keeper of Bamburgh Castle, which lies within ten miles of Horton. After Darcy's execution in the following year Grey petitioned Cromwell for the keepership: he was passed over, but one of the lists recording the new appointment bears a note 'to remember Thomas Grey', and in the same year he was appointed one of the officers of the east march at a salary of 20 pounds per year.
His career might have come to an abrupt end when in May 1538 he and his uncle Lionel, porter of Berwick, were arrested on Cromwell's orders by the captain of Berwick, Sir Thomas Clifford. Cromwell evidently dismissed the charges as groundless. About the same time Thomas Grey was one of those appointed to bring ten men to help put down a threatened revolt by the men of Tynedale.
The fall of the Protector cost Grey the treasurership of Berwick, which went to Richard Bunny, but this was partially offset in Jun 1550 by a grant of the constableship of Dunstanburgh, a coastal fortress south of Bamburgh, and of a 21-year lease of the site and possessions of the monastery of Newminster, Northumberland: the property, which included coal-bearing land, was leased to Grey in consideration of services 'previously rendered'.
In April 1554, the Council exhorted him and other Northumbrian gentlemen 'to show themselves more forward in service than they have erst done whereby they shall well redub (repair) their former slackness', and in September 1556 and August 1557 he was summonded before the Council: on the last occasion, having professed himself 'very willing to serve' Queen Mary, he was commissioned to carry a 'mass of treasure' to the north, where he offered to serve against the Scots without pay. He had, on the other hand, won the regard of both John Conyers, 3rd Baron Conyers, and Thomas Wharton, 1st Baron Wharton, who intervened on his behalf when he was called before the council in the north in 1554 and 1556.
Although Strype was to describe Thomas Grey as 'one of the best reputation in the parts adjoining Scotland' it is doubtful whether he diverged markedly for the Catholicism of his neighbors: when he and Cuthbert Horsley were returned to Parliament in Oct 1554 the sheriff described them on the indenture as 'two of the grave and Catholic persons (within) the said county', and Grey's associates and kinsman were noted for their religious conservatism.
Thomas  Grey's own interest in the consolidation of the family's possessions was reflected in the settlement of his lands, after his only son had died in infancy, on whichever of his daughters should marry his kinsman Sir Ralph Grey of Wark and Chillingham: it was his eldest daughter Isabel who did so.
SIR THOMAS GREY that nowe ys, knight, weddyd Dorothe, doughtre to Roborte [blank] [sic], and sustre to Roberte, Lorde Ogle, and had issue Isabell, wyefe to Raufe Grey of Chyllyngham ; Agnes,* wyefe to Roberte Claverynge of Calyleet ; Margerye, wyefe to John, son to George Heron of Chypches ; Barbara, wyefe to Roger Proctor of Shawdon ; RogerJ sine prole; Ursula, wyefe to Humfrey, son to John Heron of Bokenfyelde ; and Margaret, vnmaryed.|| At the foot of the above pedigree it is sketched again in tabular form in the handwriting of Glover without addition. It will be noted that in Harvey's Visitation ante p. 11, he gives Sir Thomas Grey of Horton the arms of Horton, but does not venture on any pedigree. Dalton's attempt at a pedigree as given above is full of blanks in the earlier part and notwithstanding the elaborate pedigree of the family of Grey in Baine, North Durham, p. 326, there is still much obscurity around the early family history both of Grey of Heton and of Grey of Horton. No arms are given by Dalton in the manuscript. * 16 Harl. Soc. has Anne. 1 16 Harl. Soc. has Callaby. The right word is Callaly. Omitted in 16 Harl. Soc. 16 Harl. Soc. has Bockam. II 16 Harl. Soc. has married! to John Baxster. (from Visitations of the North)
Thomas and Dorothy had ten surviving daughters:
| | | | |
| --- | --- | --- | --- |
| Child | Born | Married | Departed |
| Isabel Grey | | Sir Ralph Grey of Chillingham | |
| Barbara Grey | | Roger Proctor | |
| Agnes Grey | | Roberte Claverynge of Calyleet | |
| Margerye Grey | | John Heron of Chypches | |
| Ursula Grey | | Humfrey Heron | |
| Margaret Grey | | unmarried | |
From the book "Wills and Inventories":  Thomas Grey, afterwards Sir Thomas Grey, of Horton, Knight, married Dorothy, daughter of Ralph Lord Ogle, and dying at his house, in Bethnal Green, London, on the 7th, was buried at St. Botolph's, Aldgate, on the 10th Aug, 1590 leaving ten daughters and coheiresses, of whom Isabel, the eldest, married Sir Ralph Grey, of Chillingham, Knt., whose third son, Sir Edward Grey, was the founder of the family of Grey of Howick.
Details of Dorothy Ogle's death remain unknown.  The marriage of Grey and Ogle brings together to significant families in Northumberland history which lead backward to possible monarchies.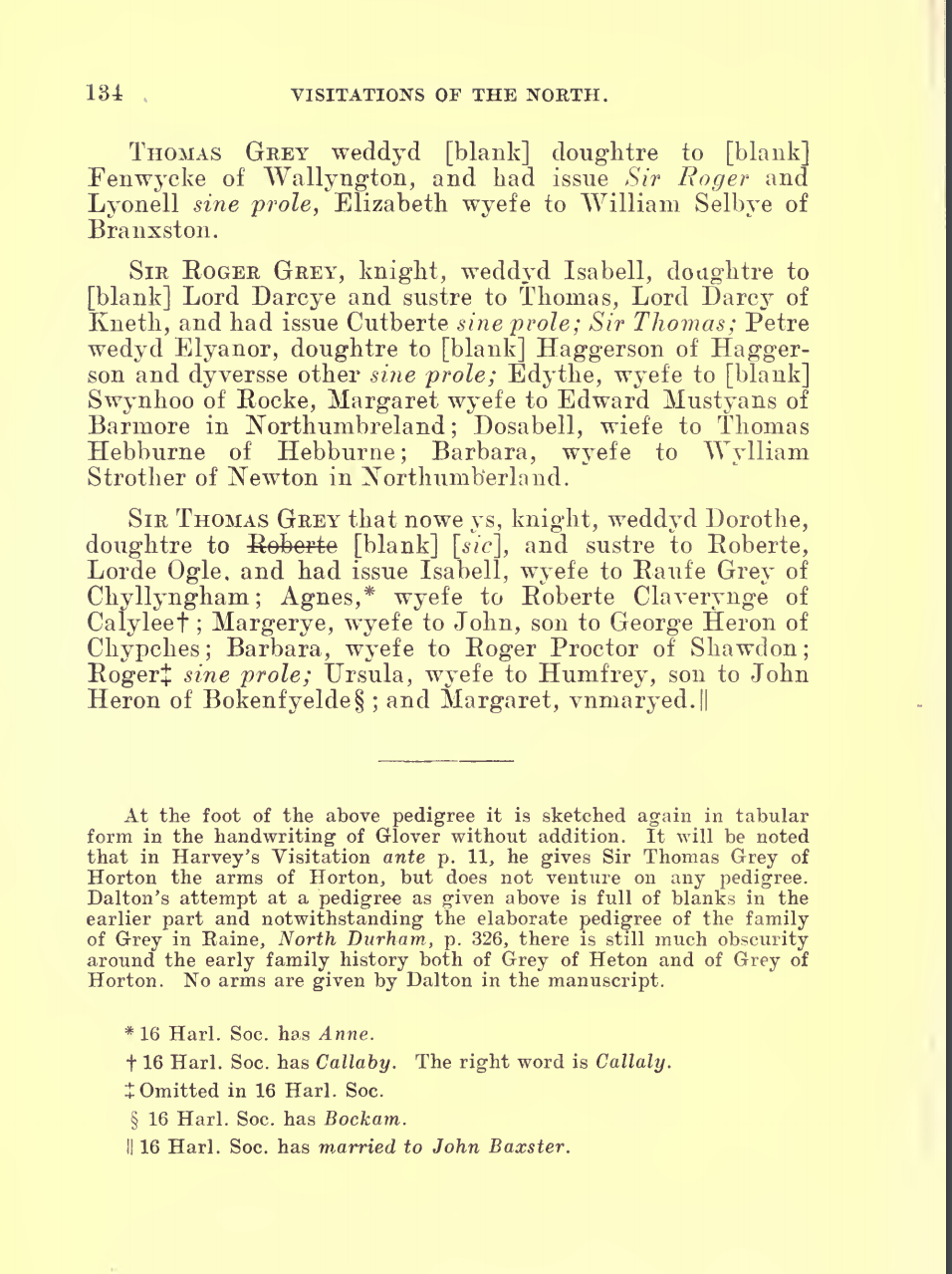 Resources
History of Parliament – Portrait of Sir Thomas Grey 
History of the Parliament – by D.F. Coros
History of the Parliament – by N. M. Fuidge
Wills and inventories illustrative of the history, manners …, Volume 2 by James Raine, William Greenwell, John Crawford Hodgson, Surtees Society
North country wills: being abstracts of wills relating to the counties of York, Nottingham, Northumberland, Cumberland, and Westmorland, at Somerset House and Lambeth Palace 1383, Volume 121
A genealogical history of the dormant, abeyant, forfeited, and extinct …
By Sir Bernard Burke