Thomas Hynson (1620-1667) was born in 1620, probably a member of the Hinson family of Fordham at the Damside, Cambridgeshire and Fulham, County Middlesex.  He became a founder of the well known Eastern Shore of Maryland Hynson family.
According to a parish register from Fordham, County Cambridge, on April 3, 1621 Thomas Hinson, ye sonne of John Hinson was baptized.  His family pedigree is found in The Visitation of Middlesex citing the granting of arms to his ancestor.  The Hinson arms are described as:
The sun in full splendor face surrounded by rays, being the cognizance of the Duke of York
to which Shakespeare's famous lines apply: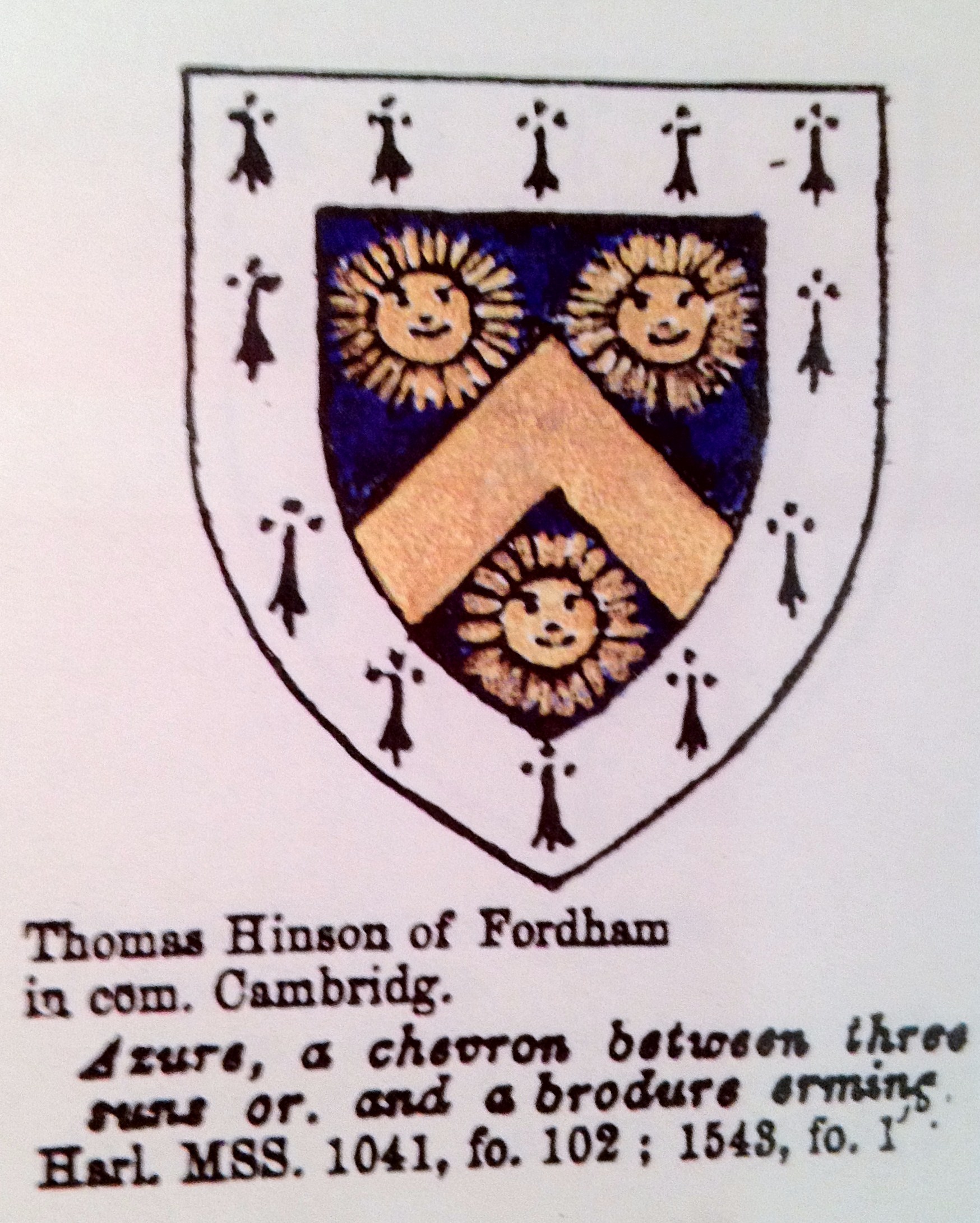 Now is the winter of our discontent, 
Made glorious by this Sun of York.
Thomas Hynson (then Hinson) married Grace in England probably about 1645.  Her origins and parents remain unknown.
Thomas Hynson owned land and was living in Isle of Wight County, Virginia during 1643-1646 after journeying by sea with his family to the Isle of Wright County, Virginia. There seems no question  that Thomas Hynson and his close associate Joseph Wickes were members of the group of Virginia Puritans who came into Maryland in 1649-1650.  Some historical context about those Puritans can be found here.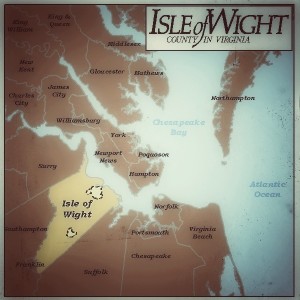 According to Dr. Cawley, "Lord Baltimore's policy of religious toleration also made Maryland, and the Eastern Shore in particular, a desirable home for many. While initially established as a haven for Catholics, Lord Baltimore also opened the Maryland colony to dissenters. In 1648 he appointed a Protestant governor and issued an invitation to persecuted Puritans in Virginia to settle in Maryland. At least 400-600 moved to Maryland's western shore, especially in Anne Arundel County, and many of those later migrated to Kent Island. Many leaders who established themselves in Kent County in the early 1650s, including Robert Dunn, Thomas South, Joseph Wickes, Thomas Hynson, and the Ringgold and Coursey families, arrived with this migration.[15] Given the continuous upheaval with William Claiborne and the potential for divided loyalties, Baltimore wisely offered full participation to Protestant settlers. Claiborne's failure to achieve support during his tenancy in the 1650s may owe much to Baltimore's welcoming policy.
Thomas Hynson arrived in the Province of Maryland in 1651 at the age of 30.  In the Land Office of Annapolis is a statement made by Thomas Hynson on June 23, 1651:
Thomas Hynson demandeth 500 acres of land for transporting (into the Province of Maryland from England) himself, his wife and John, Grace and Ann Hynson, his children; William Planes, Dunken Makalester and Elizabeth Bloomley, his three servants.
A warrant was issued that same day to the Surveyor General of the Province to
lay out for Thomas Hynson on the Eastern Shore of the Chesapeake Bay over against Love Point near the land demanded by Mr. Specy or elsewhere there not formerly taken up.
Thomas Hynson was considered a gentleman of large means and influence,  bearing the same arms as those of his English forebears.  He arrived in a new unpredictable continent and creating roots for generations to come.  Thomas' law profession benefited him leading to a prompt appointment to one of the most important offices—that of Clerk of the Isle of Kent—and in a few years became "High Sheriff for ye Countie."
On July 31, 1652, the Parliamentary Commissioners, Richard Bennett, Edward Lloyd, Thomas March and Leo Strong issued a commission to Thomas Hynson and others to be Commissioners of the Island of Kent, in which very great power and authority was given them.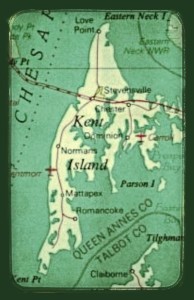 On March 1, 1654, William Fuller and William Durand issued a new commission to Thomas Hynson and became Justice of the County Court in 1654—member of the House of Burgesses 1659—after which he was debarred from office by Lord Baltimore for serving under the Commonwealth—particularly as a member of the Assembly of 1659.
The children of Thomas Hynson and Grace were:
| | | | |
| --- | --- | --- | --- |
| Child | Born | Married | Departed |
| Lt. Thomas Hynson | | Ann Gaines 1663 |  1679 |
| Col. John Hynson | | Rachel by 1670; Ann, widow of Jonathan Grafton c. 1693 |  1705 |
| Col. Charles Hynson |  1663 | Margaret Harris, c. 1686 |  1711 |
| Grace Hynson | | Thomas South by 1663 | |
| Ann Hynson | | Benjamin Randall; Joseph Wickes;  St.Leger Codd | |
Thomas Hynson received a warrant on June 23, 1651, for four hundred acres of land on an island opposite Love Point, Kent Island, for having brought his wife and three children into the Province, but a patent for this land, which lay on Eastern Neck Island, was not issued until this territory was opened up for settlement in 1658.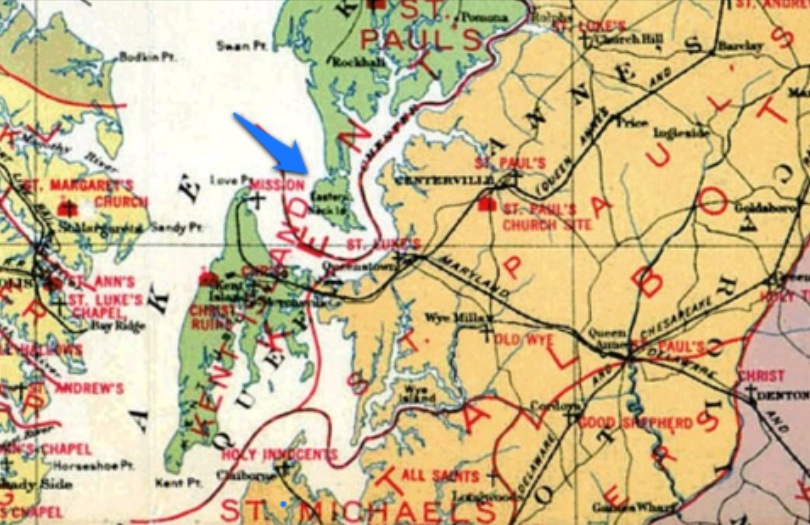 The island is now the Eastern Neck National Wildlife Refuge.
Thomas Hynson lived on Kent Island until about 1659 when he apparently moved to the mainland to what in 1662 became Talbot County.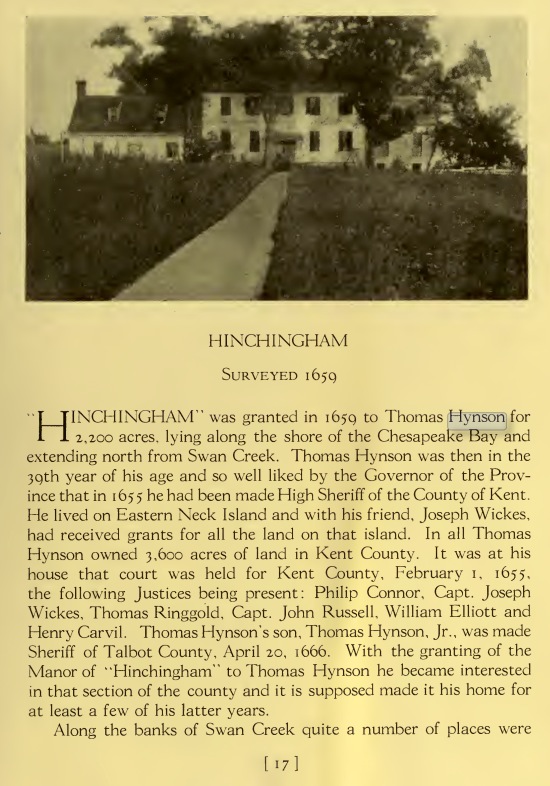 It is not believed however, that he lived upon the 2200 acre tract, "Hinchingham," on the Kent mainland, which he also patented.
Hynson was clerk of Kent County in 1652-3.  He served as justice, March 1, 1654/5 and was on the bench until 1658.
His political sympathies appear to have been favorable to the Parliament, and to have been anti-Proprietary in the Fendall "rebellion."
Just after the restoration of Charles II and the overthrow of Fendall, a Kent County record  dated February 13, 1660/1 indicates a deposition in which it was declared that Thomas Hynson was heard to have referred to the court house as "his Maiestys Dog hous," but further inquiry as to this disrespectful speech seems to have been dropped. He was a member of the Assembly from Kent, including the insurgent Assembly called by Fendall in 1660, and for this he and his friend, Joseph Wickes, were debarred for seven years from holding office and were obliged to give bond for good behavior.
Thomas Hynson's short life of less than 50 years was marked by accomplishment and political roles.  At the Isle of Kent, Maryland, Thomas was High Commissioner in 1652 and  Sheriff in 1655. By 1659, he was a member of the Assembly in 1659 at Maryland.  Around 1659, he supported Fendall's Rebellion for which he was fined 2,000 lbs. of tobacco and barred from office for 7 years in 1661.
After Thomas Hinson's death at almost age 5o, each of his sons became prominent in their service to the  community. His namesake Thomas settled in Talbot County, on the estate which he called Hynson's Town and became High Sheriff of Talbot County, becoming one of the most influential men of his day.  His second son, Colonel John Hynson remained in Kent County and in 1678 became High Sheriff of Kent County, as his father in Kent and his brother in Talbot had served.  Thomas' third son Colonel Charles Hynson was a leader in the military affairs of his community.
Thomas Hynson died intestate in 1667.  On January 20, 1667, his sons Thomas and John Hynson became administrators of estate.  The land he owned  originally equaled rights to 800 acres. He patented an additional 4,000 acres.  At his death, he owned more than 4,000 acres, one slave, and four servants.  He died Protestant by faith. His wife Grace's death remains a mystery.
Resources
Side-lights on Maryland history: with sketches of early Maryland families …
By Hester Dorsey Richardson
Ancestral records and portraits: a compilation from the archives …, Volume 2
By Colonial Dames of America. Chapter I, Baltimore, Grafton Press
Heraldica Marylandiana, H.W. Newman, see page 100
Maryland Historical Magazine, Published under the authority of the Maryland Historical Society, Vol. 15, Pub 1920, Baltimore
A Distant Heritage: The Growth of Free Speech in Early America
Land Office, Lib. A B H, fol. 164 ; ibid., Lib. 5, fol. 488
Proceedings of the County Courts of Kent (1648-1676), Talbot (1662-1674), and Somerset (1665-1668), Archives of Maryland, Volume 54, Preface 17
Archives of Maryland, Volume 426
Archives of Maryland, Volume 54
Proceedings of the County Courts of Kent (1648-1676), Talbot (1662-1674), and Somerset (1665-1668)