Cuthbert PROCTOR  (pre-1577–1633) was born in Newcastle upon Tyne,  Northumberland, England.  His parents were Roger Proctor (abt. 1535-) of Shawdon and Barbara Gray (abt. 1536-abt. 1613), daughter of Sir Thomas Gray of Horton.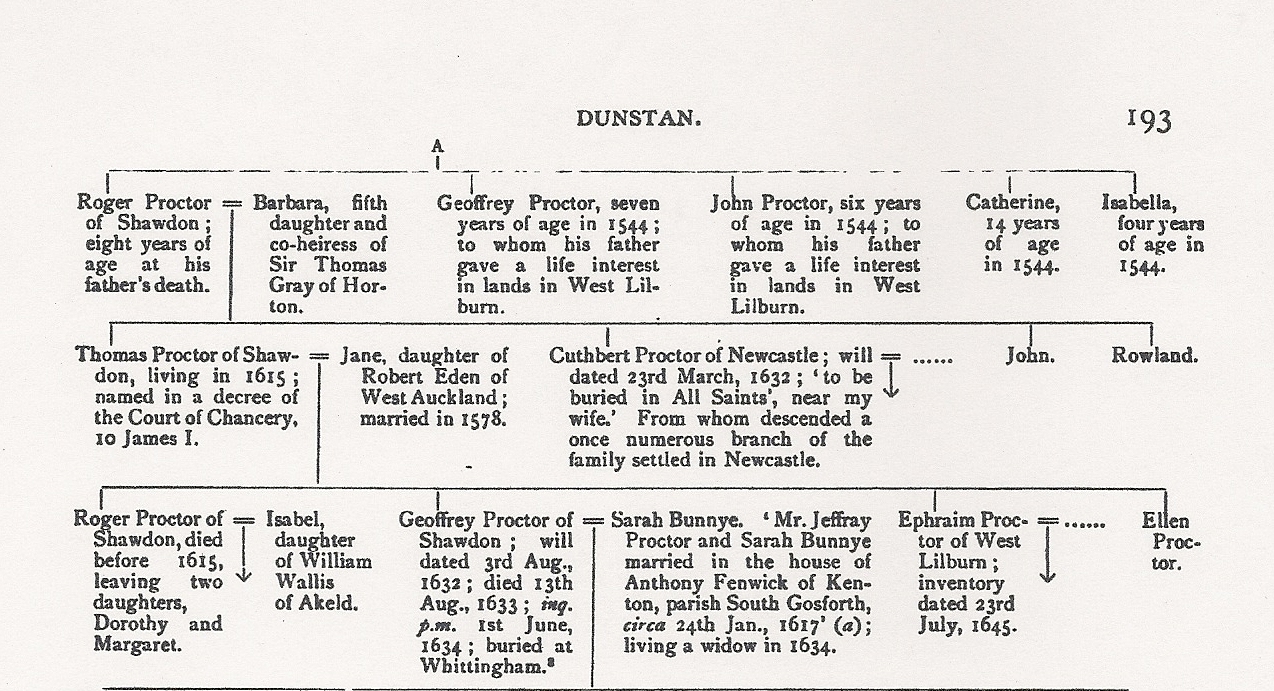 He married Ellinor ( -1624) of Newcastle.  Little is known about her life except that she died eight years before Cuthbert.   They had several children:
| | | | |
| --- | --- | --- | --- |
| Child | Born | Married | Departed |
|  Doritie Proctor |  c. 07 Mar 1602 | | |
|  Cuthbert Proctor |  b. 13 Sep 1603 | | |
|  Barbarey Proctor | c. Abt 1606 | | |
|  Isabell Proctor | c. Abt 1608 | | |
|  Mathias Proctor | c. Abt 1609 | | |
|  Margaret Proctor | | William Colston | |
Cuthbert Procter was a Newcastle merchant who apprenticed to And. Westwood, boothman, Oct. 11, 1577 (Dendy, Surt. Soc. Pub. 101, p. 212).  His property was assessed in a subsidy roll of 1621 for lands in All Saints' Parish, Newcastle, at 12s.
It was a fascinating time in history regarding English currency.
According to his will dated March 23, 1632, Cuthbert desired "to be buried in All Saints, near to my wife" from whom descended a once numerous branch of the family settled in Newcastle.  Ellinor Procter was buried on August 13, 1624.
Cuthbert gave his three daughters Margaret, Dorothy and Isabel, all his lands, tenements, etc., in Newcastle and Gateshead, except his own dwelling house in Pilgrim Street, as well as his goods, chattels and leases.
He gave his son Cuthbert Proctor his lease of lands at Ponteland provided that within ten years of his death that the son Cuthbert would pay his three sisters in one payment, 9007.  (Worth about $1.2 million now). His Executors were his three daughters and his will was "proved" at Durham on December 17, 1633.  There is a note that one of the said daughters died before the day of payment and that Margaret, wife of compounder, alone proved the will.  Apparently the other sister renounced probate.  The money not being paid, the executrix and her husband William Colston entered and possessed it until it was sequestered.  The other sister was not paid any share of the 9007. The lease was for 1,000 years. In the Northumberland Rentals of 1663, Margaret Colston was rated for lands in Ponteland township at 301.
So it was that Cuthbert and Ellinor were buried near to each other at All Saint's Parish of Newcastle. 
The Parish of All Saints consisted of the townships of All Saints, Byker and Heaton. The first of these was part of the city and county of Newcastle, and all of these areas are now within the City of Newcastle-upon-Tyne.
All Saints or All Hallows Church was probably built in the twelfth century and was replaced in 1796 by the present building. The old building is said to have been built on the site of a Roman Pantheon, and so may have older religious associations than any church in the city. The church was deconsecrated in 1961, and in the 1980s it was incorporated into an office complex.

Descended from five generations of male Proctors, the birth and marriage of  their daughter Margaret Proctor shifts the surname to Colston and her daughter marries a Bordley, the family that comes by sea to America during 1600's.
Resources
A History of Northumberland  History of Northumberland, Edward Bateson B.A., (London, England: Newcastle-Upon-Tyne Printed and Published By Andrew Reid & Co. Limited, 1895)