Richard Hammond (1849-1919) was born January 27, 1849 in Thurles, Tipperary County, Ireland.   It was a time of the Great Famine with mass starvation and immigration.  Richard came by sea to America with his mother, twin brother, and two other siblings during the Civil War. He was orphaned as a teenager having to fend for himself in Troy, NY. His struggle represents a version of the American Dream.  With only a parochial elementary education in Ireland, Richard came to upstate New York where he learned his trade from the bottom up to become a notable businessman.
From a psychological point of view, it is possible that his early passage aboard the SS Great Eastern made such an impression — for better or worse — that his successful career led to designing and manufacturing heavy marine boilers.  By age 42, his company Lake Erie Engineering Works was employing hundreds of men and drawing the attention and interest of the Navy Department.  
Interpretively speaking, the trauma of starvation, immigration, and loss of family members may have fueled intense emotion that was sublimated through an intense lifelong focus on engines and powerful boilers.

Richard Hammond arrived by sea to New York City,  United States, from Queenstown,  on a fascinating voyage of the SS Great Eastern.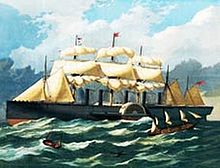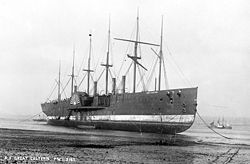 He arrived on or about July 2, 1863 with 650 passengers.   That year The SS Great Eastern made three voyages to New York, with 2,700 passengers being carried out and 970 back to Britain along with a large tonnage of cargo.  For ship lovers, here's a video of the SS Great Eastern.
His parents were William Hammond (c. 1815-?) and Margaret Butler (c. 1820- before 1870).
The family settled in Troy, New York.  Richard served his apprenticeship in the boiler-making trade with Starbuck Brothers and became a journeyman boiler maker.   While living in Troy, Richard Hammond was a member of the 24th regiment of Southern New York and it was said that "he has always regretted that he was not old enough to go to the front in the Civil War."
He married Johanna Mahar (1847-1915) on April 20, 1870.  Johanna was born in Tipperary County, Ireland but the identity of her parents is unknown.  Richard's 1904 passport application indicates that he emigrated in 1863 aboard the ship Great Eastern.   A 1920 census notes that 1863 was the same year that Johanna emigrated.   It is only a guess whether these young adolescents knew each other before or during the voyage.

Eight years after emigrating,  Richard and Johanna married and became young parents with the birth of their first child Margaret Hammond in 1871.  That same year, Richard was naturalized as a citizen on February 27, 1871 and the family left Troy, New York.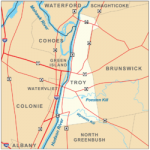 In 1872, Richard transferred to the oil fields in Pennsylvania and started business at Titusville, PA.  By 1875, he entered into partnership with John Cofield in Franklin, PA as manufacturers of oil-well boilers and engines and a short while later purchased Cofield's interests, extending the business into tank building and refinery construction.  Richard and Johanna remained in Franklin, Pennsylvania until 1882.
It seems that the Hammonds were strategically in the right place at the right time.  According to the history of City of Franklin,
"Franklin continued a slow but steady growth, until the entire region became a center for worldwide oil production following Colonel Edwin Drake's drilling of the country's first commercially successful oil well in 1859 in nearby Titusville. Venango County oil production hit a peak in 1882. Unique to this valley, "Franklin's Heavy Crude" was sold at a premium price. In this frenzied period, Franklin offered the stability of an established community, even as wealth poured into it. This economic boom brought many changes to the face of Franklin."
Richard and Johanna had eight children and all except Anna were born in Pennsylvania.
| | | | |
| --- | --- | --- | --- |
| Child | Born | Married | Departed |
| Margaret Hammond | 1871 in Franklin, PA | John Thomas NORTON, 16 Jan 1891, Buffalo, NY | 11 Feb 1922 Troy, NY |
| Michael Hammond | 1872 | |  1957 |
| William Hammond | 1874 | |  1909 |
| Richard Hammond | 1875 | | |
| Mary Hammond | 1876 | | |
| John Hammond | 1876 | |  1941 |
| Helen Hammond | 1880 | John Stone? |  1926 |
| Anna Hammond | 1888 in NY | | |
Richard and Johanna's first child Margaret married attorney John Thomas Norton who later became co-executor of Johanna's estate.  Their sons worked in their father's trade during their mid-twenties but what happened to them after that remain unknown – a research dead end!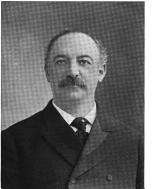 In 1882,  Richard Hammond moved to Buffalo where he designed a plant for the manufacture of steam boilers.  His methods and ideas were advanced for the time and it was not long before his plant the Lake Erie Boiler Works (1882) obtained an unusual reputation for the manufacture of heavy marine boilers.
In 1890, he organized  the Lake Erie Engineering Works and became president.  It was known as the first manufacturing institution in American to be completely equipped with hydraulic machinery. That year, he also became an early member of the Engineers' Club of New York.
Richard was a self made successful businessman and his success epitomized the American Dream.  He contributed to the growth of manufacturing industries of Buffalo, NY.  These two businesses employed 500 men and involved eight large buildings.  Although an "ardent Republican," he declined political roles including a nomination for councilman.
His confidence showed through in statements made to New York Times in a 1891 article,
The Times Correspondent was informed by Mr. Richard Hammond, the President and General Manager of the Works, that the works is in a position to take on the heaviest kind of marine engine work that may be offered. Mr. Hammond declared, in effect, that engines built for the war ships for the Maine and Texas could be handled by this establishment with perfect readiness.
A biographer described Richard as such "in his relations to society and the community he is noted for his cordiality, generosity, and strict integrity— a plain man, without ostentation, enjoying the respect and good will of his neighbors and townsmen, and of all with whom he is connected in business relations."  He was also active in Catholic societies and perhaps his early faith helped him through early loss and struggle.
Richard Hammond's passport application at age 55 — 30 years after being naturalized as a U.S. citizen — described him as six foot tall with a fair complexion, high forehead, Roman nose, medium mouth, round and full chin, and eyes of grey.
It seems that Richard Hammond was an innovative man and leader who worked hard to achieve success in business.  He grew Lake Erie Engineering Works into a company that was renowned nationally for its engineering capabilities and was featured in an extensive article in The New York Times in 1891.  But the final years of Richard's life are of particular interest.  His wife Johanna became ill and bed ridden for about seven years before she died.    Issues around Johanna's will are noteworthy.
According to the proceedings from a New York State Supreme Court case:
Johanna Hammond died November 10, 1915, leaving a last will and testament executed August 15, 1911. Her husband, Richard Hammond, and son-in-law, John T. Norton, were nominated as executors. In August, 1918, Richard Hammond made a petition and presented it to the Surrogate's Court, for admission of the will to probate. On the same day he qualified as an executor. Objections were filed to the probate of the will. Its probate was not contested.
These proceedings lay in abeyance until 1919, when John T. Norton qualified as an executor and presented the will for probate. It was thereupon probated October 7, 1919. Two days thereafter Norton's coexecutor, Richard Hammond, died intestate. The petition for probate of the will prepared and executed by Richard Hammond recited there was an estimated personal estate of about $1,000 and $23,000 realty.
By the testatrix's will, she provided for the expenditure of $1,000 for the celebration of masses for the repose of her soul and then gave the residuary estate to her husband, Richard Hammond.
It is conceded in the record that Richard Hammond paid the $1,000 mentioned and the funeral expenses of the testatrix.
During the lifetime of the testatrix, she and her husband Richard maintained for years a safety deposit box in the Marine Trust Company of Buffalo.
It is conceded in the record that the testatrix owned and possessed some or all of the items of jewelry set out in the petition for discovery, and that the same were kept in the safety deposit box, and that they were of considerable value.
On the trial of these proceedings, it was conceded that the testator left real estate of the value of $15,000; but no concession was made as to the value of her personal estate. There is no proof whether she left debts or otherwise. It may be inferred with reasonable assurance that the testatrix left no debts. She was an invalid and confined to her house and bed for the last seven years of her life and was then as always, since their marriage, living with her husband, Richard Hammond.
Upon the trial of these proceedings, it is asserted that there is a transfer tax and inheritance tax, state and national, which have not been paid, and no provision has been made for the payment of same. The articles of jewelry are sought to be by him reached in these proceedings, for the purpose of paying the taxes and the costs and expenses of the administration of the estate by the appellant.
Richard Hammond was married to the respondent in 1917, and she survived him; he having died two days after the probate of the will. It does not appear that letters were issued to him or that he had taken any steps to administer the estate beyond paying the funeral expenses and the legacy of $1,000 for the saying of masses. His widow, Margaret Hammond, and one Joseph A. Stone were appointed administrators of his estate. Upon the death of the testatrix and long before the admission of her will to probate, her estate came into the possession of her husband, Richard Hammond, and he thereupon proceeded to deal with it so far as here involved as his own property and estate. He gave the articles of jewelry, all or most of which are sought to be discovered in these proceedings, to his wife Margaret, who now claims to own and hold the same as her separate property. The petitioner here has been denied relief by the surrogate of Erie county upon the theory that his co executor, the residuary legatee, had substantially administered the estate of the testatrix and that as residuary legatee he took title thereto freed from the claims of the appellant.
This case was noteworthy enough to be published.  It contains the elements of a mystery.  Ailing wealthy wife who dies and her husband quickly remarries only to die himself with his new bride seeking all his property.  Adding another layer of complication were the relationships of Richard and Johanna's executors.  Richard's son in law John T. Norton (married to daughter Margaret) was a co-executor of Johanna's estate while Joseph A. Stone and Margaret Hammond (Richard's 2nd wife)  were co-executors of Richard's estate.
PSYCHOLOGICAL IDENTIFICATION
The relationship between Richard Hammond and his son in law John T. Norton is speculative but it seems there was some sort of conscious or unconscious identification between them.  They shared in common connections to Troy, Irish Catholic identity and empathy for immigrants struggling to survive.  Richard himself was once, a poor Catholic, Irish immigrant with elementary education who served his apprenticeship in the boiler-making trade with Starbuck Brothers, Troy, NY during the late 1860s.  John T. was the son of an Irish immigrant  who  made a successful life as a Clinton Foundry plant supervisor and local politician in Troy.
Richard Hammond was smart and succeeded but so many other immigrants of his time did not.  Fast forward 30 years, Richard has become a wealthy manufacturer in Buffalo employing hundreds of workers.  During the same period (1894), in Troy Richard's son in law Ivy League attorney John T. Norton fights for justice during the trial of working class Irish immigrant Bat Shea who was caught up in dynamics of class warfare between elite manufacturers and factory workers.
Fast forward another  20 years, ailing Johanna Mahar Hammond, wife of 45 years, dies and Richard remarries two years later at age 68 — only to die two days after Johanna's will is finally probated with John T. Thomas and Richard Hammond as her co-executors.
Synchronicity — meaningful coincidence?  To the extent that mind and body are inseparable, one can only wonder the psychological impact of these events.
There are many unanswered questions about Richard Hammond's life and final years.   Of his early life, we know that he was a twin but there are no records or further mention of Hester or his parents or siblings.  Later, except for his daughter Margaret, there are no leads about the lives of his own children.   
Richard and Johanna's burial locations remains unknown but the course of their lives inspire resilience in the face of so many early unexpected transitions.  Not to be overlooked great great grandparents — your impact survives.
References
The men of New York: a collection of biographies and portraits of the citizens of the Empire State prominent in business, professional, and social life during the last decade of the nineteenth century
A history of the city of Buffalo: its men and institutions : biographical sketches of leading citizens
American Society of Mechanical Engineers transactions, Volume 41
New York supplement, Volume 19
NY Times 12/21/1891 — PLANTS FOR NAVAL WORK; THE WEST A FAIR COMPETITOR OF THE EAST. RESOURCES OF THE LAKE ERIE ENGINEERING WORKS OF BUFFALO FOR HANDLING GOVERNMENT CONTRACTS FOR THE NEW NAVY.
1890 U.S. Federal Census Schedule No. 1 — Population — Township of Buffalo Ward 23, Erie County,NY
Troy and Rensselaer County, New York: A History, by Rutherford Hayner, Volume III, Lewis Historical Publishing Co., Inc., New York and Chicago 1925
 U.S. Passport Application June 3, 1904 Buffalo, NY #88851