Sir Roger GREY (1475-1541) of Horton, knighted 1518, was born in 1475.  His father was Sir Thomas Grey of Horton (c. 1455-) and his mother was a member of the Fenwick family. Roger Grey's siblings were Thomas (c. 1480), Elizabeth (c. 1485-), and Lionel Grey (1490-1542).
Roger Grey married Isabel Darcy (c.1476-), daughter of Lord William Darcy in about 1500.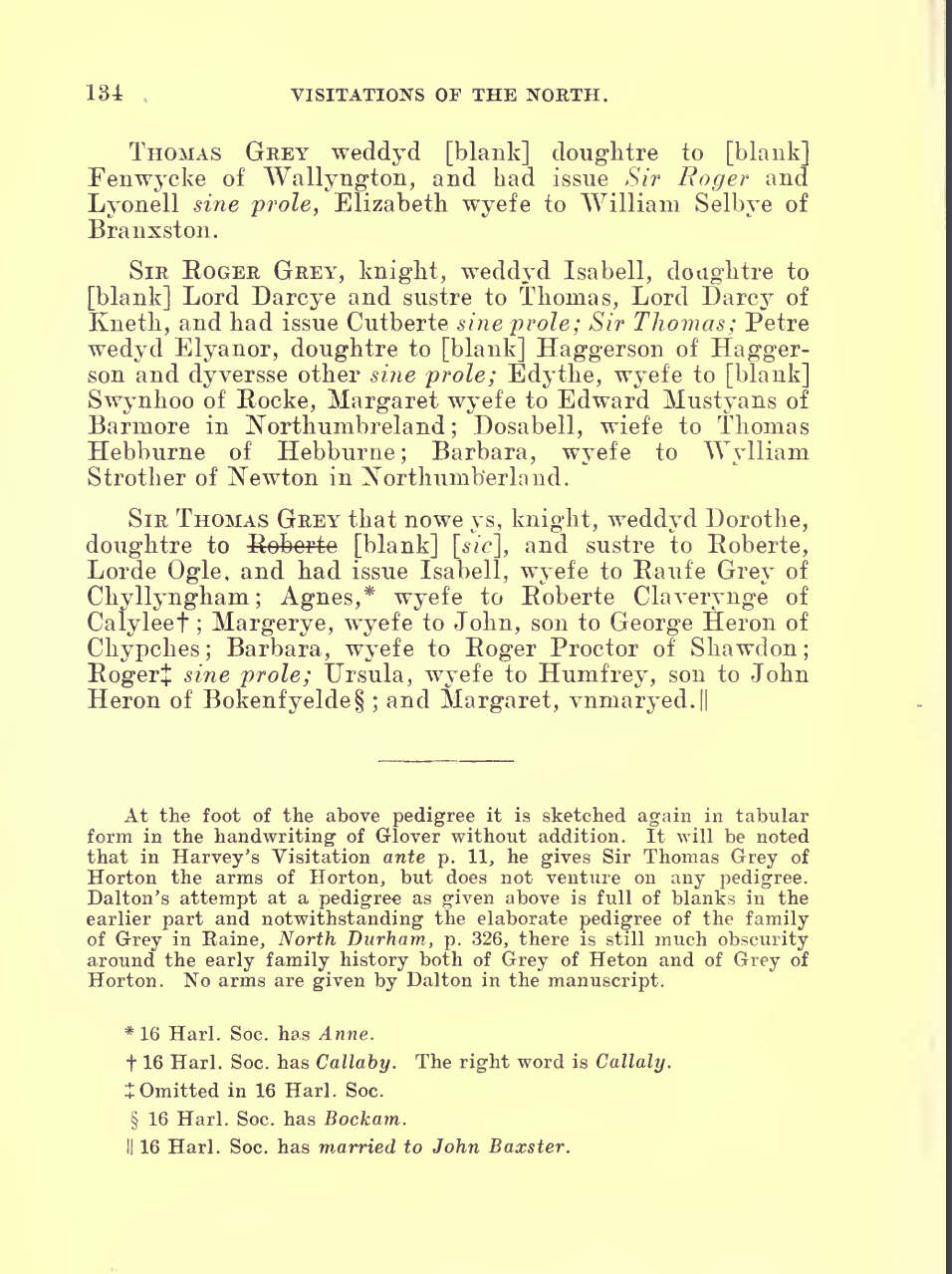 He lived in time of violence and revenge.  There are a number of accounts of an attack, retaliation, grudges, and violence involving Roger Grey: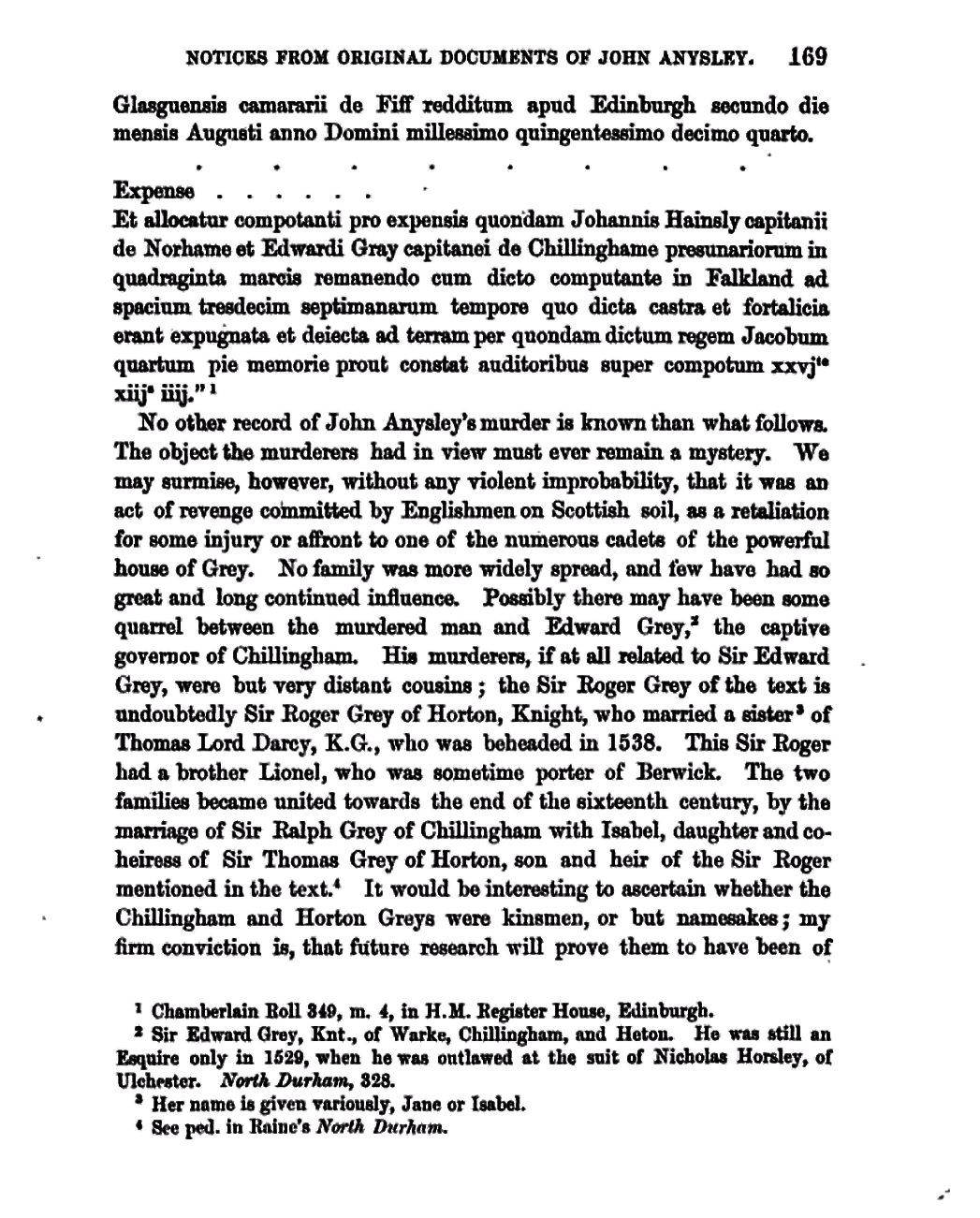 According to Proceedings, "no other record of John Anysley's murder is known than
what follows:
The object the murderers had in view must ever remain a mystery. We may surmise, however, without any violent improbability, that it was an act of revenge committed by Englishmen on Scottish soil, as a retaliation for some injury or affront to one of the numerous cadets of the powerful house of Grey.  No family was more widely spread, and few have had so great and long continued influence. Possibly there may have been some quarrel between the murdered man and Edward Grey,2 the captive governor of Chillingham. His murderers, if at all related to Sir Edward Grey, were but very distant cousins; the Sir Roger Grey of the text is undoubtedly Sir Roger Grey of Horton, Knight, who married a sister3 of Thomas Lord Darcy, who was beheaded in 1538. This Sir Roger had a brother Lionel, who was sometime porter of Berwick.
The two families became united towards the end of the sixteenth century, by the marriage of Sir Ralph Grey of Chillingham with Isabel, daughter and coheiress of Sir Thomas Grey of Horton, son and heir of the Sir Roger mentioned in the text.4 It would be interesting to ascertain whether the Chillingham and Horton Greys were kinsmen, or but namesakes; my firm conviction is, that future research will prove them to have been of one blood; the heraldic evidence, such as it is, goes however the other way. Grey of Chillingham bore Gules a lion rampant within a border engrailed argent. Grey of Horton, harry of six argent and azure, on a bend gules a bezant."
Notes:  2 Sir Edward Grey, Knt., of Warke, Chillingham, and Heton. He was still an Esquire only in 1529, when he was outlawed at the suit of Nicholas Horsley, of Ulchester. North Durham, 328.
3 Her name is given variously, Jane or Isabel.
4 See pedigree in Raine's North Durham.
Further accounts of feuds and violent emotions are found here:
The story of John Anysley, who was Constable of Norham Castle just before the battle of Flodden, affords a curious illustration of the savagery of Border feuds. Norham was taken by the King of Scots a few days before the battle, and Anysley was sent prisoner to Falkland Castle in Fife, along with another captive, Edward Grey, the governor of Chillingham. What his relations with his fellow prisoner were, does not appear; but the Greys of Horton, possibly distant cousins of the Chillingham Greys, owed him a deadly grudge. After remaining a quarter of a year in confinement, Anysley was ransomed and allowed to return home; but before he crossed the Border, he and his servant Henry Murrey were attacked and murdered by a party of English and Scotch Borderers, led by Sir Roger Grey and his brother Lionel, the latter of whom was afterwards governor of Berwick. Not satisfied with mere murder, the assailants, we are told, "did all so hew, cutt and mangle the vesages &. faces of the said John & Henry in suche wise that ther was not left the space of iij fyngers brede in no place of ther faces that was holle •uncntt or mangled."  This little story, derived from a comparison of English and Scotch records, has been made the subject of a brief paper by Mr. Edward Peacock, of Bottcsford Manor.
It appears that Roger's brother Lionel wanted "justice" for an assault against his brother:
The Northumbrian gentry were men after Dr. Johnson's own heart, "good haters." Lionel Grey, porter of Berwick, having planned the murder of John Ainsley, captain of the castle of Norham, for some offence against his brother, Sir Roger Grey of Horton, was afterwards heard to make the grim remark, "I never in all my lyf was so mery as when I hard the traytour Anysley, sittinge on his knees, crye mercye." More than twelve years later, viz., in 1537, he was conspiring with many men of Bamburghshire and others to murder Sir Thomas Clifford, the captain of Berwick-on-Tweed, in Alnwick, or on a moor above Newstead, in revenge for his zeal in trying to bring the murderers to justice (J Raine's North Durham, p. 309).
The will of Sir Roger Gray/Grey mentions his wife Isabel and cites his son Thomas Grey and brother Lionel as executors.  The following excerpt is found in Wills & Inventories:
SYR ROGER GRAY, KNYGHT
Id no'i'e dei Amen: the zeir off or Lord god a thovsand fyve hwndr and xl the xiiij day off Febrwary I Syr Rogr Gray Knyght: off p'fett mynd & hole, thoft I be seke in my body maks my last Wyll irrecou'able & testament in man' and form' folowyng: first I gyve my sowll vnto God Almyghty: my body to be burryede in the qweir off the parysche church off belford be syds the bod* of my child' wt the dwet' to be done to the churche; Alsso I bequyeth to dame Isabell my Wyff all my corn wt in my come in ye zaird and barne of Dychen: the seid to furnech the grond reserued she and my huset s'uands to lyue on yt to the next terme day cawled Vytsonday: Also I bequyeth to my said Vyff all the store of flesch & fysch wt in my Hwss for my s'uands and hyr as ys afor sayd to the terme aboue named: Also I gyue & bequeth to my son Petr* the corne off Awten felds both in zard and barne; the seeds to saw the lands w1: Also I gyue my said son' Peter xxx yowes xx hoggs aud vj kye wt their cawffs : Also I bequyth to Jhon Gray of Dychaunt fowxe off the best oxen : Also I gyue & bequyth to Wyll'm Stodr of Newton viij oxen at Dychn't and ij kye at Awten huss or ells xx nobles in mon'y: Also I beqwyeth to Sandrson the Smythe of lowyck xx*. Also I beqwyeth to dame Bednell off Hetto' vj*. viijd. The resydew of all my goods vnbeqwyeth I pwt the' hoil in the hands off my son Thomas Gray 1 and in the hands off me' browther Lyon'ell Gray * whom' I awmyt & ordane my full executors to dyspone & ordr the same for the be awght off my sowle the brying forth and burying of my body wt the fun'all exequyes & exspenc's to be done for the same and the paying off my debts : Also I will and com'ands yt my sad Son Thomas & my browther Lyonell see this Will abou' said be kepyd and fullfylled: thes Witneses Ihon' Gray off Horto' Ihon Gray off Dychend George Ellyson : S' Jams Fenkyll my co'fessour wt oyr off my tenands
Notes: 1 Sir Roger Grey, of Horton, Knight, married (according to the Visitations) Jane, daughter of Sir William Darcy, Knight, and sister of Thomas Lord Darcy, who was beheaded upon Tower Hill, in 1538, for having joined in the Pilgrimage of Grace. Isabel, mentioned in his will, was probably a second wife.
According to Proceedings, Roger's wife is alternatively named Jane or Isabel.  Some sources suggest that Roger's brother Thomas (c. !480-) married first Isabel Swinhoe and secondly, Jane Darcy.   Regardless of Roger's wife's name, she was the daughter of William Darcy.
Resources
Wills and inventories illustrative of the history, manners …, Volume 2 By James Raine, William Greenwell, John Crawford Hodgson, Surtees Society
Life in Northumberland during the sixteenth century, Volume 20
By William Weaver Tomlinson
Genealogy of the descendants of the Prichards, formerly lords of Llanover …
By Thomas Gregory Smart
Institute of Historical Research –Letters and Papers, Foreign and Domestic, Henry VIII, Volume 13 Part 1: January-July 1538, James Gairdner (editor), 1892
Proceedings of the Society of Antiquaries of Scotland, Volume 9 by Society of Antiquaries of Scotland
The athenaeum edited by James Silk Buckingham, John Sterling, Frederick Denison Maurice, Henry Stebbing, Charles Wentworth Dilke, Thomas Kibble Hervey, William Hepworth Dixon, Norman Maccoll, Vernon Horace Rendall, John Middleton Murrytle