Melchior Keener (c. 1720-1798) was born in Saarbruken, Alsace Lorraine, France in 1720. Conditions were difficult due to wars and religious intolerance. At age 19, he emigrated by sea to York County, Pennsylvania in 1739. He was industrious and later became a wealthy shipping merchant, first President of the Ancient and Honorable Mechanical Society, and a founder of the city of Baltimore, Maryland.
Along with 60 men, Melcher Keiner (Kuner) immigrated aboard the Snow Betsey from Rotterdam, arriving in Pennsylvania on August 27, 1739.  On that day Melchior Keiner took the oath of allegiance along with Johannes Keiner.  The immigrants were classed as Palatine even though some came from other regions, including Alsace and Switzerland.
While living in Pennsylvania, Melchor Keener petitioned the York County, PA Court for a license to keep a "publick house of Entertainment."
The Petitions of the following Persons praying the Recommendation of this Court to his honour the governor for Lycences to keep publick houses of Entertainment at their Several Habitations within this County were Read and Allowed, to wit:  ….. 23. Melchor Keener…. 
Melchor's wife is known simply as Margaret.  Their children were probably all born in Pennsylvania:
| | | | |
| --- | --- | --- | --- |
| Child | Born | Married | Departed |
| Christian Keener | Aug 1752 in PA | Susanna Swope 20 Apr 1780 | 21 Nov 1817 |
| John M. Keener | | name unknown | |
| Margaret Keener | | Benedict Swope, Jr. 21 Dec 1777 Baltimore | |
| Catherine Keener | 1754 | Englehart Yeiser | |
| Andrew Keener | | Fredericka Amelung 20 Sep 1785, Frederick, MD |  1792 |
| Susanna Keener | | ? Joshua Guttery, 06 Dec 1783 | |
Little is known about Melchoir's family life.  It may be assumed that he remained in York County, PA like other Palatine immigrants of the 1730-40s.  But by 1760, many Palatines began moving down toward Maryland's Chesapeake Bay and a few of the best to Baltimore.   So after about 22 years in PA, he moved to Baltimore in 1761 where he built on North Gay Street as well as a wharf and warehouse below Hanover Street.
Both Melchior and John Keener emigrated on the same ship in 1739.  Perhaps they were brothers.  Their names reappear together in 1762 when they became naturalized subjects on September 10, 1762,
after subscribing to the Oath of Abjuration under the Act of George II (13th year) and certifying that they had taken the sacrament of the Church of England at St. Anne's Church, Annapolis, on Apr. 14, 1762.
By 1763, Melchor — now in Baltimore — became active near the waterfront. About that time, Fell's Point was developing as a shipbuilding and commercial center with laid out streets and plots for homes. The town grew quickly, and eventually incorporated with Baltimore Town and Jones Town in 1797 to form the City of Baltimore.
Melchor Keener and others can be credited with the beginning of Baltimore's Municipal Market system.  Their "Baltimore Fire-Engine and Wharf Lottery" scheme was advertised in the Maryland Gazette:
Baltimore Town, July 16, 1763 — The following scheme of Lottery is humbly proposed to the Public for Raising the sum of 510 Pounds Current Money, to be applied towards Completing the Market House in Baltimore Town, in Baltimore County, Buying two Fire Engines, and a Parcel of Leather Bucketts, for the Use of the said Town, Enlarging the present Public Wharf, and Building a New One.
The scheme contained,— 1062 prizes, amounting to £2490; 1938 blanks—sum raised 510;  3000 tickets at 20«. each £3000
The managers were Messrs. John Ridgely, Brian Philpot, John Smith, John Moale, Jonathan Plowman, Barnabas Hughes, James Sterett, William Lux, Andrew Buchanan, William Aisquith, Benjamin Rogers, Nicholas Jones, Mark Alexander, John Hartz, and Melchior Keener, all of Baltimore Town. The market was erected on the northwest corner of Baltimore and Gay Streets.
This was the beginning of Baltimore's public market systems which now includes eleven markets encircling the heart of the city.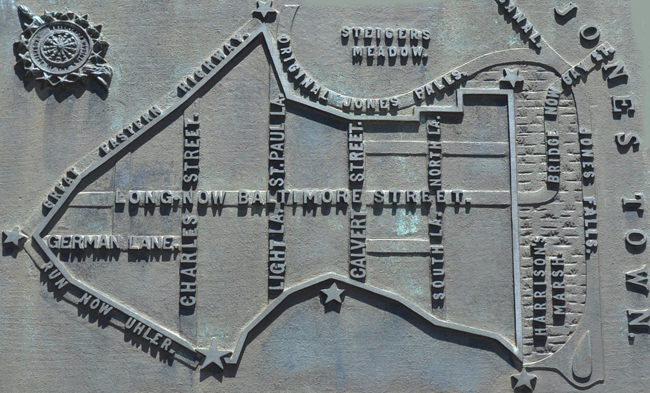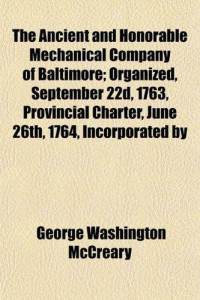 Around this time in 1763, Melchior Keener was elected the first President of The Ancient and Honorable Mechanical Company of Baltimore. Considered "the oldest civic organization in the United States," it was established to protect life and property in the city of Baltimore with its population of about 2000 residents. At its origin, the company "discharged nearly all the duties needed for the government of the town, its policing, magisterial functions, etc, and in addition, acted as firemen," according to company historian George W. McCreary.
Melchior was involved in shipping throughout his life in Baltimore.  On July 10, 1775 at the Maryland, Baltimore Committee of Correspondence,
On motion, Resolved, That, for the future, every Master of a Vessel reporting his cargo before the Committee, shall, also, at the same time declare, on oath, the quantity of Gunpowder he hath on board, or hath imported this present voyage.
Melchior Keener and David Stewart, shippers of merchandise on board the Schooner Swallow, Captain Cook, muster, took and subscribed the necessary Oaths.
 Melchior faced difficulties when the Whig Party threatened him.  A report reads
[Council to Nathaniel Smith.] Jany 18th 1777.
Sir. We are informed by Melchior Keener that three of your soldiers with their musquets and Bayonets fixt came lately to search his house in a Riotous manner, and were guilty of divers irregularities. David Welsh and Harry the rummer were two of the offenders.
We request you would inquire into the affair, and take care on all occasions that the peace of the State be preserved. We have wrote also to the committee of Baltimore Town.
Capt Nathaniel Smith. We are, &c.
Since Melchior's arrival in Baltimore, he had been active in developing property around the waterfront, in supporting a plan to finance a public market, in presiding over a group that was ostensibly the governing body of Baltimore city as the earliest time in its history.  After twenty years in 1784, he built the Wheatfield Inn, later known "Howard House."   It was located at Howard near Market Street.   It is not known how long he owned the Inn but it considered one of the earliest in Baltimore.
What remains unknown is the relationship between John Keener and his father Melchior Keener.  The Bordley Pedigree cites a son John M. Keener but he is not mentioned in Melchior's will dated 1798.  Perhaps John died before then or was disowned.  An online source cites that Margaret Keener was disowned without explanation when she married Benedict Swope, Jr. in 1777.
Nonetheless, it appears that Melchior's sons Christian and John participated in the Revolution.
ABSTRACT OF THE RETURNS. 1781. (c.)                                                                           Captn. Jon. Reegel's Comp'y.                                                                                                 Christn. Keener. Phil. Klein. Jon. Feid. Peter Speicher. Casper Stump. Chrisn. Detweiler. Jon. Albert. Herber Berger. Jon. Keener. 
While not conclusive, this military record supports a possible relationship between Melchior and a son John.
Melchior Keener was on a small committee to erect a new First Reformed Church on the north side of Second Street.  The church was 50 by 80 feet in dimension, with a steeple about 200 feet high, with three bells weighing forty-five hundred pounds and a large clock, which became known as the Town Clock. The cornerstone of this new church was laid April 28, 1796 and was finished in September 1797.   Melchoir Keener died a year later and is said to be buried in the German Presbyterian graveyard.  Nothing is known about what happened to his wife Margaret.
Resources
Emory, Mary Bourke, Colonial Families and Their Descendants, Press of the Sun Printing Office. Baltimore. 1900
History of the German society of Maryland by Louis Paul Hennighausen
Maryland Heritage — Five Baltimore Institutions Celebrate the American Bicentennial, edited by John B. Boles
The Baltimore book; a résumé of the commercial, industrial and financial resources, municipal activities and general development of the city of Baltimore
History of Baltimore City and County, from the earliest period to the present day including biographical sketches of their representative men. By John Thomas Scharf
Bordley Pedigree compiled by Bryden Bordley Hyde
The Keeners and Allied Families:  A Memorial to Anna Maria Keener
[1775-07-10] Maryland, Baltimore Committee of Correspondence
The Ancient and Honorable Mechanical Company of Baltimore: organized, September 22d, 1763, provincial charter, June 26th, 1764, incorporated by act of assembly, no. 127, 1827 : historical sketch …By George Washington McCreary
Palatine Project – Pennsylvania Passenger Lists
To Maryland From Overseas by Harry Wright Newman, 1983
Pennsylvania Court of Quarter Sessions 1749-1754 (Docket Book 3, Page 13, July 1753 Session)
History of York County Pennsylvania From the Earliest Time to the Present by John Gibson
Letter to the Safety Community
Pennsylvania archives, 1874, Printed by J. Severns & Co. 
Archives of Maryland [Council to Nathaniel Smith.] Jany 18th 1777.